The Office of Congresswoman Elise Stefanik offers an 8 to 10 week internship program during the summer that provides students with a unique educational opportunity while witnessing firsthand the public policy process and the inner workings of our United States Congress.
The Director's Internship program is designed to give students an understanding of the core functions of a congressional office, including responding to constituent inquiries, researching legislation, and assisting in the development of public policy. Interns are encouraged to observe the legislative process by attending committee meetings, hearings, and briefings. Other duties include but are not limited to leading tours of the U.S. Capitol, assisting the legislative staff with policy research and projects, observing debate on the House Floor, and preparing materials for Congressional briefings.
Interested internship applicants must possess strong written, verbal and computer skills. The ideal candidate should have a minimum Grade Point Average of 3.0.
Congresswoman Stefanik represents New York's 21st District in the House of Representatives where she is a Member of the Armed Services Committee, the Committee on Education and the Workforce, and the Permanent Select Committee on Intelligence. She is a graduate of Harvard College and the youngest woman ever elected to Congress.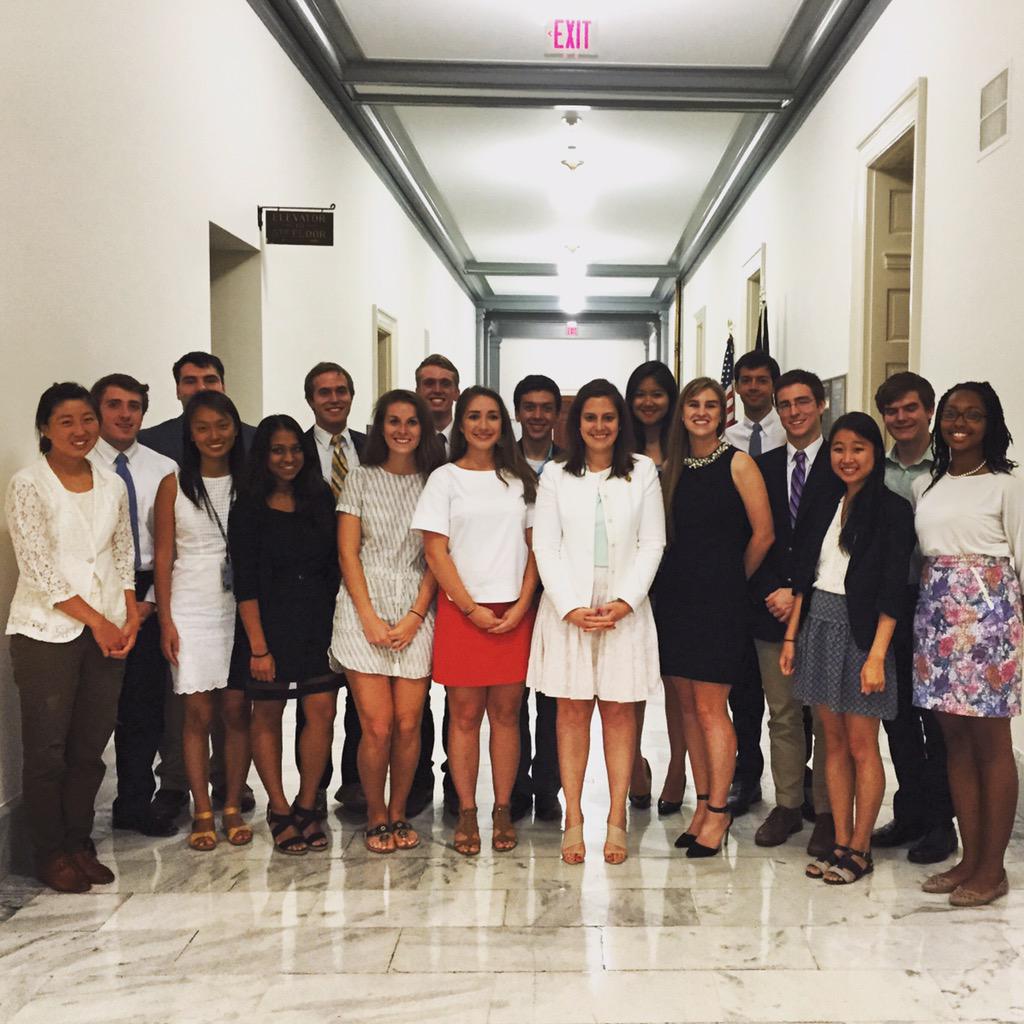 2017 Intern Reflection:
This summer in Congresswoman Stefanik's office I have learned about how a congressional office works, while experiencing the exciting environment of the Hill. My day-to-day responsibilities included fielding constituent calls, writing for the Congressional Record, and helping with constituent correspondence. These tasks allowed me to engage with the people living in New York's 21st district and to understand how congressional offices process and respond to the input of their constituents. In addition to this, I really enjoyed giving tours of the Capitol to people from the district.
Apart from the daily work in the office, I would say my favorite part of this internship was immersing myself in Capitol Hill and politics for a summer. The other interns and I were encouraged to seek out hearings, briefings, and lectures on the Hill that we wanted to attend, and I got to see congressional committees debating a huge variety of topics. It was also interesting to talk to the professional staff in the office, hearing about their career trajectories and opinions on current political events. Overall, working in Congresswoman Stefanik's office was a great way for me to see the federal government in action. I would recommend this opportunity to anyone who is interested in the actual workings of the government and who wants to get a taste of the environment in Washington D.C.
Isabella Huber '18
2015 Intern Reflection:
My experience in Congresswoman Elise Stefanik's office has demonstrated to me what work in a Washington, D.C. congressional office entails. After interning in my Congressman's district office in the past, I expected the same type of experience in a Washington, D.C office. Although some of the experiences are similar, like fielding calls from constituents, my internship in this office gave me the opportunity to focus on the public policy process as well as respond to constituent inquiries. In the Congresswoman's office everyone works hard together so that the people's well beings are always kept in mind.
Because of Congresswoman Stefanik and her staffers, I have had the best possible experience in this office. The work environment in Congresswoman Stefanik's office is wonderful. The staffers are friendly, fun and always willing to lend a hand or teach a lesson. Being proactive and seeking out projects is the best way to gain the most out of your internship. I have had the opportunity to research legislation spanning from labeling of foods to trade. In addition to office work, I have had the unique opportunity to attend committee meetings, briefings, hearings and interesting lectures, including ones by presidential nominees. I've enjoyed leading tours of the U.S. Capitol to the district's constituents, as well. I would definitely recommend this internship to any future student who wishes to gain greater insight into the inner workings of our United States Congress first hand.
Kaitlin McGovern '18
Washington, D.C.
Elected Officials, Federal /State and Local Government, Advocacy/Policy